The 2023 Subaru Love Promise Customer and Community Commitment Award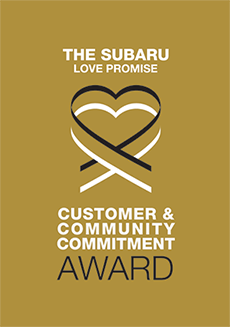 We've been nationally recognized for our dedication to our customers, our community, and the Subaru Love Promise.
We're honored to receive the 2023 Subaru Love Promise Customer and Community Commitment Award. This award nationally recognizes elite Subaru retailers who provide an exceptional customer experience at every interaction with Subaru. These retailers have also demonstrated an outstanding commitment to supporting passions and causes in their local communities in important areas such as the environment, community, health, education, and pets.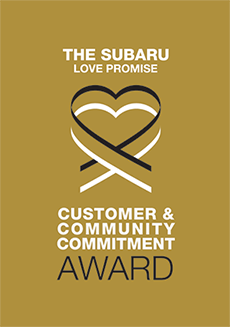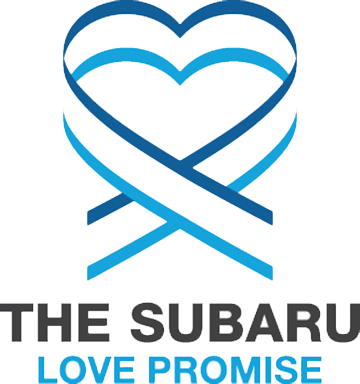 What is the Subaru Love Promise?
Subaru and our retailers believe in making the world a better place and the Subaru Love Promise is our vision of respecting all people. This is our commitment to show love and respect to our customers and to work to make a positive impact in the world.
How is Saint J Subaru dedicated locally to the Love Promise?
Our Love Promise can be seen in the community events we sponsor! Saint J Subaru LOVES supporting our local community. Most recently we sponsored Relay for Life, NEMBAfest, 3 local Little Leagues, NEK Youth Services and a racing team to just name a few! We are SO grateful for the opportunity, not only to be a part of our community, but to serve it as well.
American Cancer Society Relay for Life
Love Promise Stories from Saint J Subaru
Subaru and Saint J Subaru believe in making a positive impact on the communities in which we live and work. We uphold that belief through our Love Promise Community Commitment. Every month, we select inspiring stories from customers and partners from around our area who strive to support our collective commitment and feature them here
Chloe, A Love Story - Sharon E
Chloe was Surrendered to Riverside Rescue, Inc. on September 8th because her owner had passed away and the wife needed to move to her sisters house for financial reasons. As in all cases of surrenders because of family member deaths she was a sad, defeated and over weight girl that needed all her shots and treatment for a urinary tract infection. On Saturday, September 24, 2022, one of our board members and his husband brought their dogs, Delaney and Henry, out for the scheduled grooming and as all their pets are adopted from Riverside and they focus on seniors they took the time to meet Chloe and felt she would be a great foster for them while she recovered from her severe urinary tract infection and continued to heal from her grief of her owner's death! Of course we said YES, YES! Chloe was happy to go with Tim, Bobby and their dogs, Henry and Delaney, but when she got home she spent her days in the mud room on a bed, eating very little but did enjoy going into the yard and would bury her favorite toy and when she wasn't looking, Henry would get it and bring it back to the house. Slowly but surely she moved closer to the living area of the house and on Monday, October 3rd she was hanging out in the living room with Henry and Delaney and that day I received a text asking if they could adopt her instead of the "short term adoption deal" they had agreed to. Today Chloe, Henry and Delaney are living their best lives in a home where they will never have to worry about being mistreated or used for breeding or left behind. Thank you Tim Connolly and Robert Provencher for always making sure to take the older dogs and let them live their older years free and easy. Thanks for your support, Subaru!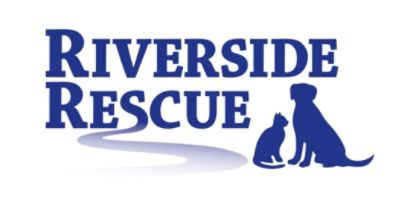 ---
No Charge Microchip Clinic - Sharon E
Riverside Rescue, Saint J Subaru, ASPCA and the Vermont Radio Group came together to offer a Free Microchipping Clinic to pets in our area. During this event we were able to microchip 128 dogs and cats as well as give each dog a new Lupine Collar and an engraved tag with a phone number. Cats were given an engraved tag with phone number and a Lupine Key Chain as not all cats wear collars. This event was a major undertaking and began at 12 p.m. and finished at 4 p.m. We had Brad Eaton, Bill Bondeson, Jeff Giannella doing parking; Stacy Jewell and Deb Giannella verifying paperwork; Robin Bondeson was making sure all the pets and owners were in place to avoid negative pet interaction and getting their collars. Under the supervision of Dr. Katrina McLaughlin, Veterinarian, Emma Gooden, Leslie Jacques and Sharon Eaton we busy interacting with the pets and doing the microchipping. Cathy Dorr was registering each microchip that was implanted. We also had Michelle St Cyr on hand to offer a free digital photograph for each pet. We could not have accomplished this major undertaking without the help of Evan Loschiavo and Chris Matte of Saint J Subaru. Once again we managed to microchip 128 dogs and cats in a very short time and everything went so well! Thank you to all who helped or sponsored us to accomplish this amazing event.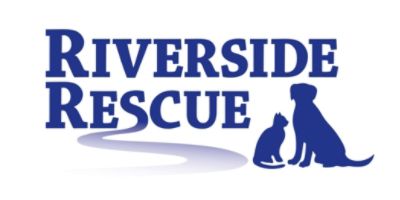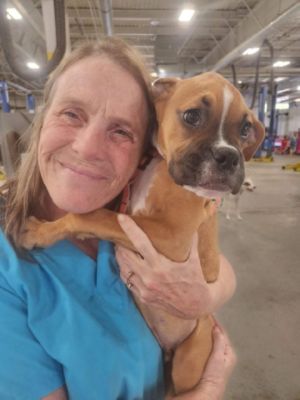 ---
Years of Support of St J Academy - Alan R
For more than 15 years, Saint J Subaru has been supporting the St Johnsbury Academy Alumni Association, and the St Johnsbury Academy fundraising efforts through consistent yearly donations. Donations have benefited athletic, scholastic, and higher education initiatives for the students of the Academy. Thank you, Saint J Subaru, and we look forward to working with you for many years into the future!
---
Over 15 Years of Donations - St J A
Saint J Subaru has been supporting the St J Academy Golf Benefit Fundraiser since 2006. The staff is always a joy on the course, and we're always excited to have them come out and enjoy a great round of golf benefiting a staple in the community here in St Johnsbury. The money raised has helped support the youth of the Northeast Kingdom and beyond, and we look forward to many more years of a great partnership. Thank you, Saint J Subaru!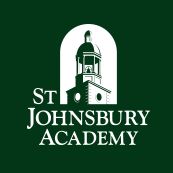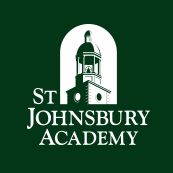 ---
Blankets for Northeastern Vermont Regional Hospital - Jennifer L
80 blankets were donationed to Northeastern Vermont Regional Hospital from Saint J Subaru and The Leukemia and Lymphoma Society, as part of the Subaru Loves to Care program. These blankets will give support and comfort to our patients going through treatments in our departments of Infusion, Intensive Care, Medical Surgical, and Palliative Care. This will help our patients feel warmth throughout their medical journey. We thank you for your continued commitment to the health of our community! Shawn Tester, CEO
---
HUGE donation for Saint J Baseball and Softball - Deb P
On behalf of St. Johnsbury Baseball/Softball, I would like to thank Saint J Subaru for the opportunity to be included in the Share the Love Program. Thanks go out to Evan and Chris who helped with the process of being a nonprofit recipient of this wonderful donation of over $36,000. I have been involved with St. Johnsbury Baseball/Softball for 42 years. This is by far the most generous donation. The donation is already making a difference. We have been able to purchase a Score booth, softball pitching machine, and safety fence topping, and are looking into a new scoreboard. We have updated much-needed equipment and we purchased new jerseys for all our players. Sincerely, Deb Priest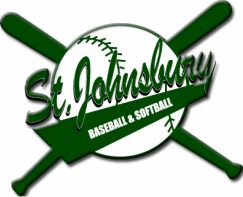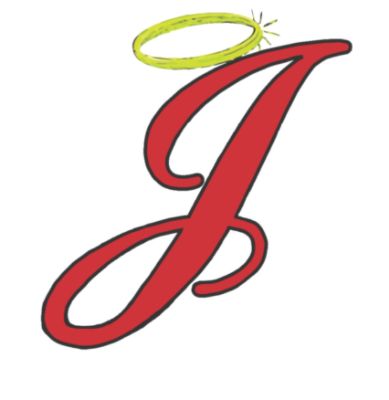 ---
Romeo - Sharon E
Sweet Romeo has found his forever home. He came to Riverside Rescue a dirty, skinny abandoned puppy and now has a forever loving home! Riverside is so grateful to Subaru for helping us get pets into new loving homes.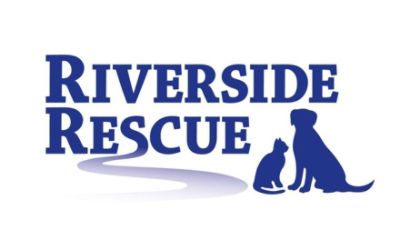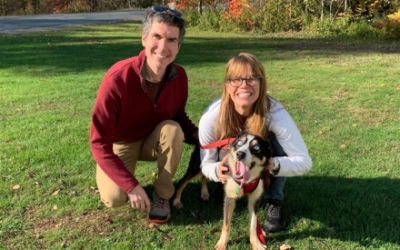 ---
Subaru Loves Pets Drive Up Vaccine Clinic - Sharon E
Riverside Rescue approached Saint J Subaru and the ASPCA about having a low cost vaccine clinic for pets in our community because most clinics were canceled because of Covid 19. On October 2nd we came together with Saint J Subaru, Dr. John Anderson (Advisor and Veterinarian for Riverside Rescue), Volunteers and Subaru General Manager, Chris Matte to accomplish this goal. It absolutely exceeded our wildest dreams as 197 pets were vaccinated that day. With the weather being rain the decision was made to move everything indoors so cars were lined up in rows of 4 and directed into the service bay where the paperwork was completed and then the cars were moved through to the Dr. where the pets came out of the cars were vaccinated and put back in the car. All of this was accomplished in 4 hours.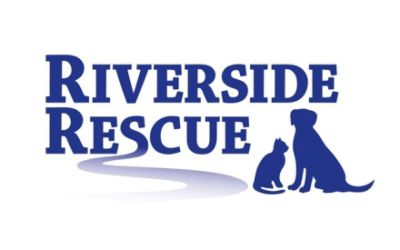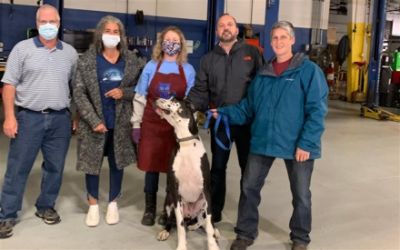 ---
St. J Academy and the Joey Fortin SMILE Award - Alan R
Several years ago (2014), Michael Loschiavo approached St. Johnsbury Academy regarding an annual scholarship recognizing fallen military heroes. Following the death of Army 2nd Lt. Joseph D. Fortin, SJA Class of 2004, Michael worked with the Fortin family to find a way to honor their son, and help a graduating senior. The SMILE award was created in Joey's honor to represent his traits, and is awarded annually to a senior who, like Joey, is hard-working, pleasant, pursues excellence, and leads by example. For the past seven years, St. J Subaru has shared the love by providing funding for this award and SJA is grateful for their support of our students. We are proud of the community partner we have in St. J Subaru!
---
NEK Tri-force - Stephanie C
We would like to take the opportunity to thank St. J Subaru for their charitable donations that help support our youth sport team. NEK Tri-Force is a group of talented young ladies that are passionate about the sport they love and the communities they represent. Our mission is to encourage these young ladies and to teach them sportsmanship, community alliance and success. Your donations have enabled us to provide uniforms , accommodations and pay fees. As a nonprofit organization we rely only on volunteers, community members and donors and your donation certainly has made a lot possible. Thank You! Stephanie C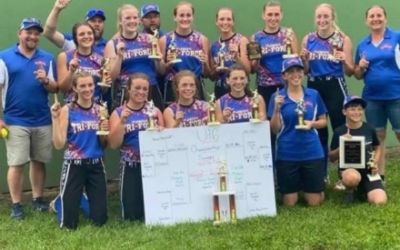 ---