Saint J Subaru Is Here To Make Your Next Service Easier
Make Your Next Service Appointment Easy with Saint J Subaru's Pickup and Delivery Options!
Has the time come for your next service appointment, but you can't seem to find the time to swing by our Subaru dealership? No worries! We understand that our schedule won't always align with yours - we want to make your experience easier. We now employ staff that can come to your home to pick up your vehicle for service, bring it to our dealership, and return with it once we've completed your service appointment - no need to travel required on your part!
It shouldn't be a nerve-wracking experience to own your Subaru - routine service appointments are a necessary part of vehicle ownership. To guarantee your peace of mind, we can assist with your vehicle service appointments, courtesy of the Pickup and Delivery option. We're here to make your life easier so you can get to what matters when driving a Subaru - enjoying every minute behind the wheel!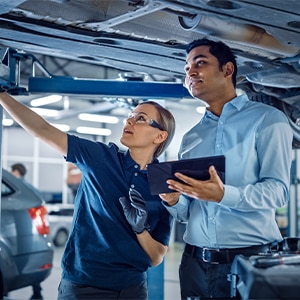 How Saint J Subaru Can Help You
Interested in taking advantage of this service soon? No problem! We make it easy to manage the pickup and delivery availability at Saint J Subaru. To ensure that you're within our serviceable radius, we recommend that you reach out to our service team today at (802) 748-2000. While there are some restrictions associated with our service, we will strive to make servicing at our dealership as easy as possible!
There's no easy way to bring your vehicle to a dealership for its next service appointment. Luckily, you don't have to make the trip when working with Saint J Subaru. We look forward to making your next service appointment quick, easy, and convenient. Please let us know if there's anything we can do to make your time with us more enjoyable! We can't wait to meet you in person!
If you have any questions about state inspections, please don't hesitate to reach out!
Schedule Service
Hours
Monday

8:00AM-6:00PM

Tuesday

8:00AM-6:00PM

Wednesday

8:00AM-6:00PM

Thursday

8:00AM-6:00PM

Friday

8:00AM-6:00PM

Saturday

8:00AM-4:00PM

Sunday

Closed