The hybrid system uses a high voltage (100V or more).  Always observe the following precautions.  Otherwise, burns or electric shock could occur, resulting in serious injury or death.
When inspection or repair is needed, always have it performed by your SUBARU dealer.
Never touch, remove or disassemble the high voltage parts, high voltage cable (orange) or their connectors.
Never touch the service disconnect plug (pictured below).  The service disconnect plug is used to cut off the voltage of the high voltage battery when the vehicle is inspected or serviced by a SUBARU dealer.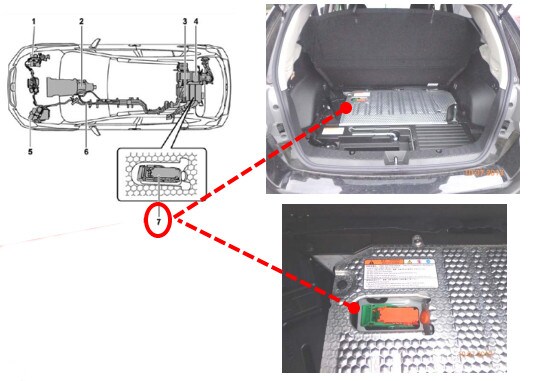 Do not cover the high voltage battery air intake (located on the left next to the rear seat - pictured below) with luggage or clothes.  Do not pour water or other substances in there.  Doing so may result in overheating or malfunctioning of the high voltage battery.

In order to ensure waterproofing, be sure to install the cargo area flooring.  Ensure that large amounts of water do not enter the cargo area.  Doing so may result in malfunction of the hybrid system.